I am a reconciliation researcher…, not a political scientist…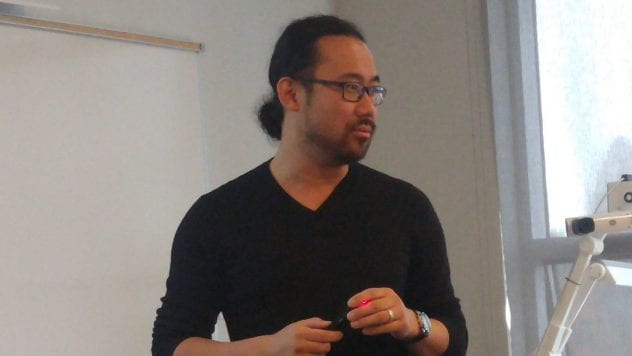 Yesterday I attended Dr. Masahiro Minami's presentation: On Mental Health Services Research. The presentation and dialogue facilitated by Dr. Minami was part of the From The Ground Up (FTGU) seminar series in the Faculty of Education at Simon Fraser University Surrey. I'm sharing about the seminars in this series on behalf of the Centre For Imagination In Research, Culture and Education–a hub for imaginative research and practice–and on behalf of the Faculty of Education Research Hub–a space and community for scholars to connect, discover and innovate.
The research projects and practices shared by my colleagues exemplify imagination in their conception, in their enactment and in terms of their impact.  Dr. Minami's act of envisioning the possible–in this case, for reconciliation in the aftermath of genocide–has wide-reaching implications. It is truly inspiring. There is no way that this brief post and my words can capture the scope, richness or emotional context of Dr Minami's work. What I strive to do, however, is give you an opportunity to learn more through the links provided.  I know this post will be particularly insightful for anyone working in the Mental Health field and in counseling.
Outline: In addition to briefly introducing my colleague, Masa, I have chosen to introduce three aspects of the seminar: first, the nature of Mental Health Services Research (MHSR), second, his conception of research as service and, in particular, his praxeology, and, third, the research he conducted in Rwanda and the forgiveness-seeking, action-based, approach to interpersonal reconciliation that emerged from that work.
The quotes throughout the post are his words. 
I hope you enjoy and are inspired to read more, leave a comment, stay connected.
Gillian 
A Little About Dr. Masahiro (Masa) Minami
Originally from Kyoto, Japan, Masa was educated from elementary through secondary school with daily-felt presence of Zen. The concept and practice of Zen that infused all of his early learning remains central to his life and work to this day. His post-secondary studies led him to Canada where he obtained a Bachelor of Arts in Psychology from SFU, a Master of Arts and a PhD in Counseling Psychology from UBC. Masa conducted his doctoral research over a year period in Rwanda. The broad scope of his scholarship is captured in this image of blossoming flower: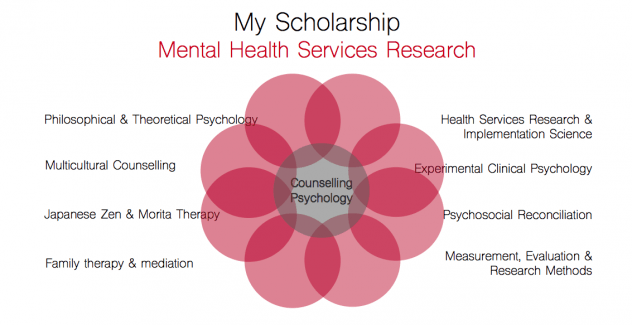 Today, Masa is a Faculty member at SFU Counselling Psychology program. 
What is Mental Health Services Research (MHSR)?
We posture ourselves to be able to respond to immediate community needs.  It is about providing the services needed in community and knowing how to capture those needs.
Masa describes MHSR as an applied area; it doesn't stay in the lab. His research in Mental Health Services area centrally involves his work within the community and research agenda/needs often generated/sourced "from the ground up"—from partnerships, in community, in relationships. He offers SFU Surrey's counseling center—where he is involved in Grad Student training—as an example of MHSR in practice. It is a community-embedded facility for grad students to learn the theory and practice. Where, in Masa's words:
Our Ethos is that we work with a community to resolved issues…we bring theory, research and practice together 'in action.'
Research As Praxeology 
There was an engaging discussion around Masa's position of his research as service.
We usually understand basic research as happening first and that it is then eventually translated into services to people in need. What about flipping that, beginning from the ground up, starting from community needs? 
Masa describes research as praxeology in which there is a blending / overlapping / integrating of research and service, action & agency in time and space as depicted here: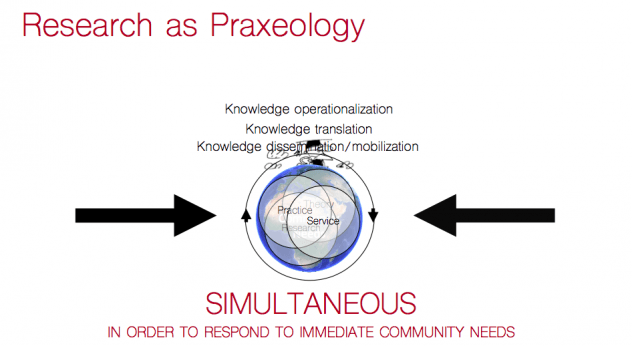 Masa's research as service occurs in the field—and his motivation, his why bother—results in work encompassing child and youth residential care support, family counselling and mediation, women with HIV, through education for orphans, refugee support, trauma and psychosocial reconciliation.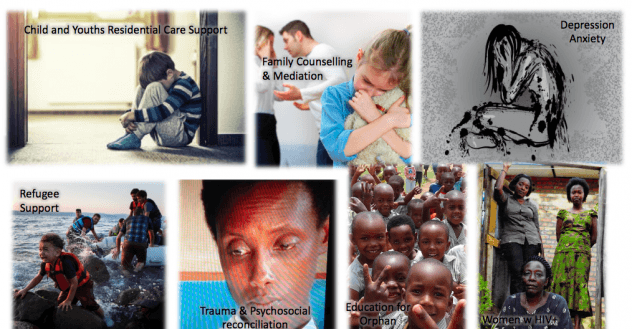 We were all incredibly moved by his work in Rwanda and, the remarkable action-based approach to interpersonal reconciliation that emerged from his witnessing field pain and challenges of reconciliation between survivors and perpetrators of the 1994 Genocide against the Tutsi.
The Case Of Rwanda: Reconciliation Through Action

Since its inception in 2012, Masa has been nurturing interpersonal reconciliation between survivors and perpetrators of the 1994 Genocide against the Tutsi living in the same villages in remote areas of Rwanda. Together with local villagers and professionals, he developed, implemented, and continues to evaluate the effectiveness of his Action-Based Psychosocial Reconciliation Approach (ABPRA) (See Minami, 2014—Nurturing Reconciliation–pdf for download below). Ubwiyunge mubikorwa, or "reconciliation in action" in English, is the beloved nickname local villagers gifted to his approach, with the motto of "Actions speak louder than words."
ABPRA does not use or force verbal forgiveness-seeking as a medium of reconciliation. Rather, it invites reconciliation dyads (consisting of a survivor and a direct perpetrator) to engage in purposeful and meaningful activities in service of the survivor. Perpetrators offer, rather than asking for forgiveness, "Would you receive my labour?" (as concrete expression of my apologies to you). Then in cases where survivors chose, perpetrators offer their weekly labour to the very survivor they once attempted to murder. As this is not a program of atoning but of interpersonal reconciliation, Masa invites survivors to share the labour together with perpetrators. For perpetrators, ABPRA provides an invaluable opportunity to 'atone' their deeds committed in the past. For survivors, it provides an opportunity to 'receive' from their perpetrators who took every away from them. ABPRA literally invites the dyads to engage in reconciliation 'in action.' Its aim is to welcome dyads to engage in new and meaningful experiences with each other, which could potentially lead to natural emergence of 'mechanisms' facilitative of healing, forgiveness, relationship building, and interpersonal reconciliation. Through post-session interviews, Masa's research team longitudinally follows the lived experiences of change in survivors' and perpetrators' 'heart and soul' in ABPRA. To learn more about his services-research project in Rwanda, visit the SFU Globe in Peace Project site at www.globeinpeace.org
Learn More About Dr. Minami's Work
Dr. Masahiro Minami is an assistant professor (counselling psychology program) in the Faculty of Education at the Simon Fraser University, Canada. He is a certified Morita psychotherapist registered with the Japanese Society for Morita Therapy (JSMT) in Japan and also serves as the Assistant Secretary General for the International Committee for Morita Therapy. Dr. Minami received his Ph.D. in Counselling Psychology from the University of British Columbia, and is a Registered Clinical Counsellor in British Columbia, Canada. He also serves as the Senior Research Partner for Prison Fellowship Rwanda and the Rwanda National Unity and Reconciliation Commission. He is also the founder and a current director of the SFU Globe in Peace Project and the Prison Fellowship Rwanda-Morita Centre for Peace and Reconciliation Research in Kigali, Rwanda.
Source: Therapy Today/www.therapytoday.net/September 2014/Volume 25/Issue 7