Welcome back to the Tools of Imagination Series—a set of posts offering cross-curricular resources and teaching strategies for maximizing student engagement and learning. This TIP in our series will be most effective with learners demonstrating a "philosophic" kind of understanding of the world but–as you will see at the end–it is not only for our oldest students. (Note: This post describes what "philosophic" and other "Kinds of Understanding" are and how each links to particular tools of imagination.)
As indicated in Tips #16-18 of this series, learners with a philosophic imagination are aware of the existence of a world of abstract ideas and are engaged in thinking about and participating in the complex processes and ideas at work in the world around them. 
Employing the "sense of agency" cognitive tool is a powerful means of evoking emotional and imaginative engagement for these learners. Experiencing a sense of agency—that feeling of being part of and/or authentically involved in a real-world process—can be profound.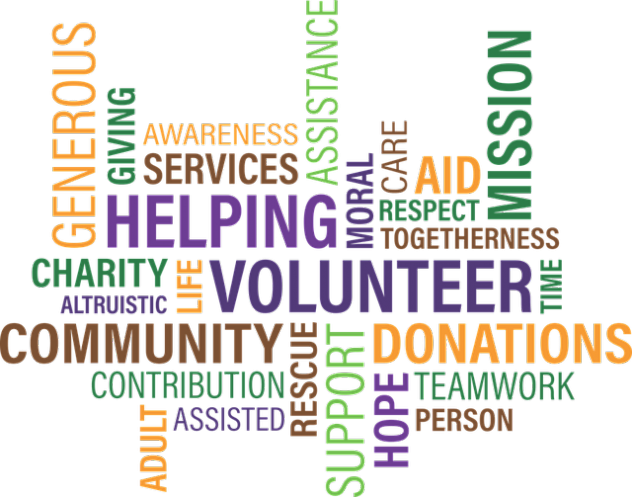 Some Theory: The Sense of Agency Cognitive Tool 
Dr. Kieran Egan suggests that a "sense of agency" is a cognitive tool that enables us to recognize ourselves as related to the world via complex causal chains and networks. We become more realistic in understanding how we can play roles in the real world, and understand ourselves as products of historical and social processes. Theoretical thinking develops in students the ability to see themselves as agents in the vast processes they have come to recognize. Their very sense of their own identity shifts as they begin to discard or distrust the "romantic" associations that had earlier contributed to their sense of self, and instead they recognize themselves as constructed by these vast historical, social, etc. processes of which they are a part. They are who they feel themselves to be, not as a product of their association with heroes, but because they have been born at a particular time and place within particular social conditions. (Source: Imaginative Education Research Group Website).
Agents get involved; they can make a difference. Agents enact learning in real-world ways.
Examples From Imaginative Educators 
I went to the source for these examples—I asked Imaginative Educators on our IE Facebook Forum if they had "5 minutes" to share. My question:
How do you engage the sense of agency cognitive tool in your teaching?
And here are some of the answers that came rolling in:
Caitlyn James (MEd in IE, Secondary Humanities Teacher, Alternative Learning Centre)
We just finished a unit inspired by a newspaper article about the murdered and missing indigenous women's inquiry. A student found the article (as part of an assignment) and thought we should learn more. I agreed. Sense of agency complete for that student!
Because one can't really understand the inquiry or the controversy surrounding it without understanding something about residential schools, the Vancouver Downtown Eastside, the Highway of Tears, the reserve system vs the American system of reservations, the level of unemployment and lack of services and resources on many reserves, treaties, un-ceded territories, paternalism, intergenerational trauma, self-government, something about the differences between the many Nations of Indigenous Canada, the connection between mind-body-spirit-emotions, truth & reconciliation, the medicine wheel, and more … we learned about it all. Then, to consolidate their understanding they created art. Amazing art. Art that is now in a photo book with their artist's statements – and they are selling them for $25 each. (They have sold 11 so far! Huge sense of pride and agency.)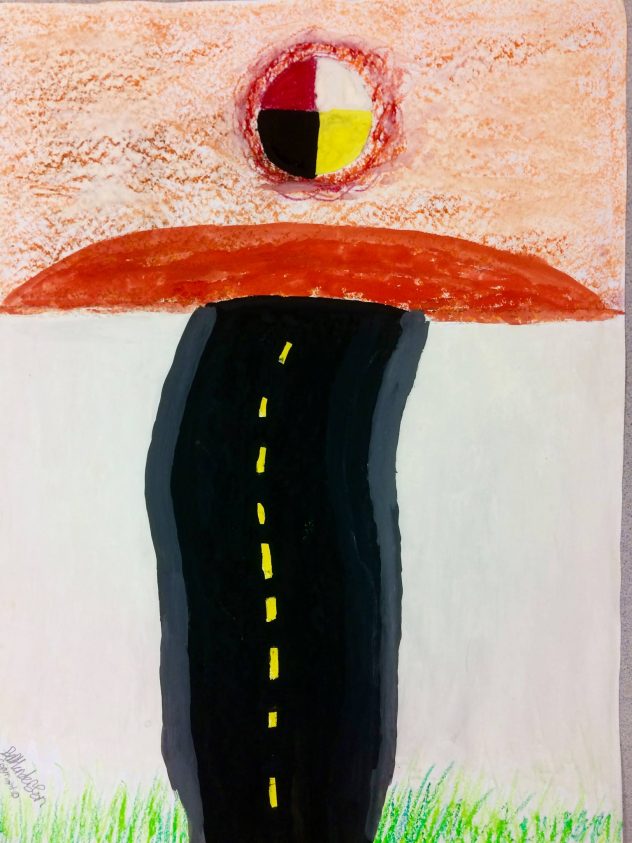 They planned and executed a ceremony to celebrate their learning, the publication of their book, and the closing of the unit. They invited the coordinator for Aboriginal Education in the School District and had our school's Aboriginal support worker perform a smudging ceremony. They spoke eloquently and from the heart. They shared their work (poetry, stories, art, essays). Finally, they created necklaces for Project of Heart, J4IW (Justice for Indigenous Women) project. As witnesses of the injustice and efforts to honour and support indigenous women, each student made one necklace to wear to commemorate one missing woman and one necklace that was donated to be sold to raise funds for projects that support justice for indigenous women. Sense of agency complete.
Here is taste of one of the art pieces, "Highway Women" – honouring and remembering the missing and murdered women along Highway 17, the Highway of Tears in British Columbia. (P.S. You tricked me, this took more than 5 minutes!)
David Futter (MEd in IE; Middle School Teacher)
In history, I work to have them see that it is real people who created things, ideas and beliefs, and that they are changed by people. Slavery was the economic relationship in the civilization era. The medieval relationship between Lord and serf/peasant was different. One of reciprocity and that people generated that new idea of being in community. In ancient Egypt, the people believed in the purpose of building tombs, temples and pyramids. One's beliefs can give power to your ideas. The first pyramid built of stone was an idea in an architect's mind. He made it a reality. If students can understand they have the ability to move their visions into reality it is a powerful recognition. If they comprehend they can change their world, it bears a tremendous sense of agency. (David Futter has been a guest blogger on imaginED. Read his post entitled "The Lure Of Imaginative Education".)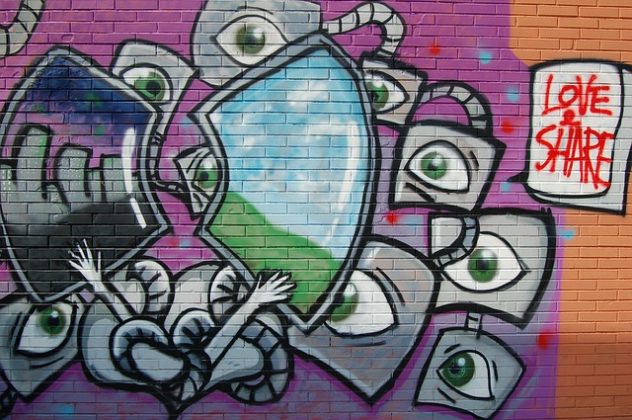 Kelly Robinson (EdD Candidate; MED in IE; Secondary English Teacher)
>Offer students choice of HOW to demonstrate understanding, either from a pre-determined set of choices by the teacher OR here are the skills, here is the knowledge/understanding you need to show, student determines fully how to express/share/communicate
>Offer students choice of CONTENT, e.g. from this anthology, choose a story/poem/essay to read, then…[insert learning activity here]…
>Use talking circles where students are able to speak their minds fully & freely about topics they choose & students then facilitate dialogue (Note: it takes A LOT of work to get to that place & sometimes it does not [teacher intensive, long-term activity])
>Ask students to use community awareness/current events/what's happening and identify what bugs them as the topic, take action by writing a letter to the editor of a local paper, to a representative of an organization, or to the principal if it is a school-based concern, or do "something" to address the situation, but the "something" is determined, planned, and executed by students with teacher approval/awareness of course (e.g. I've had students create found poems with art in sidewalk chalk on school property as a way to beautify the space; students "sticky note bombed" school lockers early before classes started by leaving positive messages to help address unkind behaviours & language that was being used by students towards students) (English 9)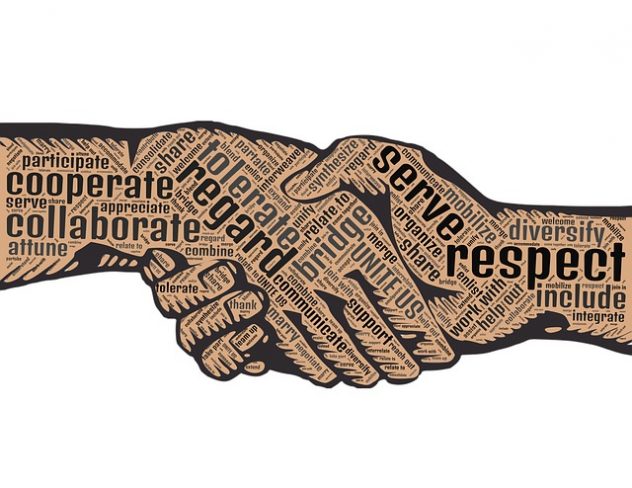 Mark Maretic & Allie Hamilton (MEd in IE graduate students; Secondary Humanities Teachers at a Learning Centre)
Hey Gillian, Allie and I are discussing it right now. My first impression was the very first experience of voting is a very empowering experience. We also talked about setting up a Community Kitchen, going on Neighbourhood walks picking up garbage… Allie pointed out how recent movies like Moonlight show how narratives can inspire people.
Amanda VanGarderen (MEd in IE graduate student; Primary Teacher)
In my K/1 AR (right now!) we are learning about how we can use conversation/ dialogue to both seek out the information we want and to persuade and inform others. We are also learning how, as authors, we can use our writing voice to do the same.
Note: This cognitive tool works best with older students who are making sense of the world philosophically and theoretically. That said, there is no need to wait until learners are older! As Amanda indicates, for younger kids getting involved is an example of authentic learning and can support all kinds of language development skills including social responsibility.
Please join us. Imagine education…(imaginED)…that inspires! I invite you to explore the blog and the work of imaginative educators preK through post-secondary—Subscribe for a weekly update. Consider writing for imaginED—share your imaginative practice and connect with imaginative educators.