By Jowi Taylor (www.sixstringnation.com)
I am not a teacher or an academic or an educational expert in any way. But the Six String Nation project has taken me into hundreds of schools across Canada to give presentations to audiences of students from about Grade four up through middle and high school. I have presented to college and graduate student classes and seminars. I've keynoted curriculum forums and teachers conferences around the country. This experience has given me some insights that I wouldn't have had the language to articulate had I not been introduced to Imaginative Education (IE) and the work shared on imaginED. Now that I know about IE, my goal is to formalize some of those connections in order to be of more value to the schools where I am such a brief visitor and perhaps create an impact that resonates well beyond my visit. 
 
About The Six String Nation Project
Resonates is probably the best word to use for my project, Six String Nation. It centres around an acoustic guitar – nicknamed Voyageur – that began as a faint tune in my head back in 1995 and that took 11 years to bring to life.
Each of the 64 pieces of material that comprise the guitar itself – as well as the 20+ pieces of soft material that adorn the case and strap – is drawn from different cultures, communities, characters and events from every province and territory of Canada and each tells a story.
Some are familiar touchstones to many people. And even if a young student doesn't know who Rocket Richard or Pierre Trudeau or Nancy Greene are, they are certainly aware of hockey and Prime Ministers and Olympic glory. Most of the materials that constitute the guitar open up a multitude of other vistas of the Canadian story: e.g. the Golden Spruce of Haida Gwaii – a story that is at once cultural, ecological and a murder mystery; a Japanese-Canadian baseball team that went from marginalization to glory to interment in 30 years; a Russian pacifist sect who settled in Saskatchewan on a grant from author Leo Tolstoy; a former slave who moved from the U.S. to become a respected Albertan and eventually a legend; or the shucker's knife that nearly conquered the oyster world from a tiny First Nation on tiny Prince Edward Island. Every single piece tells us a story—one of the most powerful tools of the imagination.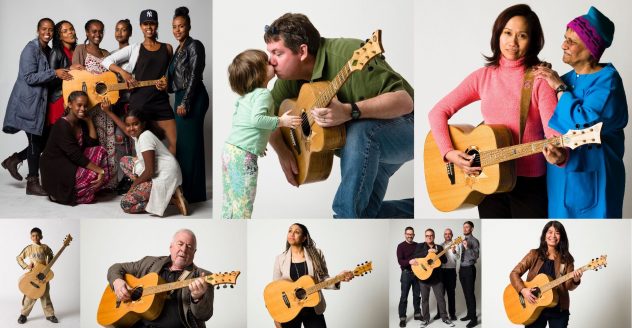 I don't actually play this guitar myself. My role is to tell its story and some of the stories baked into it in a multimedia presentation that I've delivered at festivals, community events, corporate functions and soft seat theatres as well as in educational settings. In none of these situations would it be right NOT to hear the voice of this guitar that contains within it so many voices so it is always played by someone. Occasionally that's a famous Canadian artist or an up and comer or a gifted amateur but mostly it's by students and teachers of varying levels of skill and talent. The important thing is to make this almost ethereal object that's been on the screen for an hour into an almost commonplace instrument that serves as a vessel for all kinds of expression beyond the identities it expresses on its own. This "performance pocket" part of my presentation – accompanied by a sequence of some of the 150,000 portraits we've taken of people holding Voyageur in every province and territory of Canada over the past 12 years up on the screen – kind of closes the circle in some ways…makes the abstractions of nationhood and multicultural identities into a musical, emotional and eminently present experience.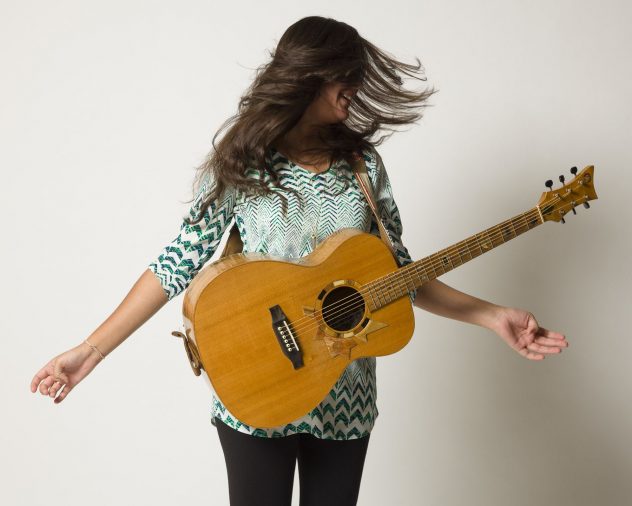 I've had teachers or principals tell me that the experience of playing the guitar as part of a school presentation has unlocked disengaged students who couldn't otherwise find a way into the curriculum. I've heard from teachers who have developed lesson plans or reading lists flowing from the presentation. Alberta has included Six String Nation in the Social Studies curriculum guide and several textbooks (in subjects as diverse as math, social studies, French and ESL) have included exercises or other content around Voyageur. I've even partnered with Esri Canada to develop a series of mapmaking explorations that students can pursue online using Esri's ArcGIS tool. Each of these programs and activities gives me a tantalizing sense of the kind of impact I think the project can have not only as an educational experience but also as a tool for reconciliation. There are a large embedded percentage of First Nations, Inuit and Metis stories in the guitar and many indigenous artists have embraced the instrument in performance.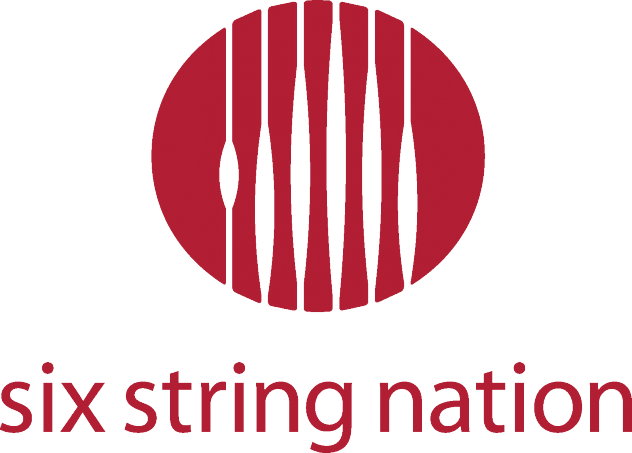 My next step is to make more vivid connections to the cognitive tools of Imaginative Education in my presentations and in the materials I share with schools so that I can engage the imaginations of students beyond my presentation in a way that matches the act of imagination that started this tune in my head back in 1995. I'd really like to hear that song—that lingering meaning—in a symphony of voices from all across this country one day.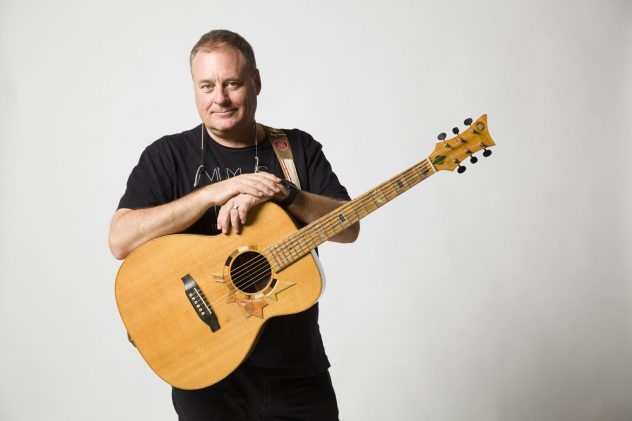 Jowi Taylor, M.S.M. is a multiple award winning writer, broadcaster, consultant and cultural entrepreneur. His groundbreaking series for CBC Radio, The Wire: The Impact of Electricity on Music, was the recipient of the prestigious Peabody Award, among other international citations. Many of his broadcast productions, including The Nerve: Music and the Human Experience, Invisible Cities and the long-running weekly show Global-Village have been internationally recognized. Jowi left CBC in 2009.