By April McKnight (rilmcknight.com)
I am a high school STEAM teacher and I believe in making Science and Math fun. We have thrown out the textbooks and we apply a design process to our classroom activities. I am always looking for ideas to try with my classes that are cross-curricular and keep the students engaged. (Many of my ideas for cross-curricular learning come from galileo.org. I am also exploring the Walking Curriculum with my students.)
A few weeks ago, I took my Chemistry 12 class into the forest on a mission. We were heading out to find and identify some local plants. We were searching for Labrador Tea, Spruce Tips, Fir Tips, and Stinging Nettle. These are local plants that have been used in our area for teas for many years. We followed honorable harvesting guidelinesfor every plant we collect as per our aboriginal education department's teachings. (Reference)
Now I am sure you are wondering how this has anything to do with my classes and so did my students. It was a sunny day and my students were happy to get out of the classroom on another adventure—this time in search of tea ingredients. But as always I have an ulterior motive for the things we do and I can always fit our trips into our classes.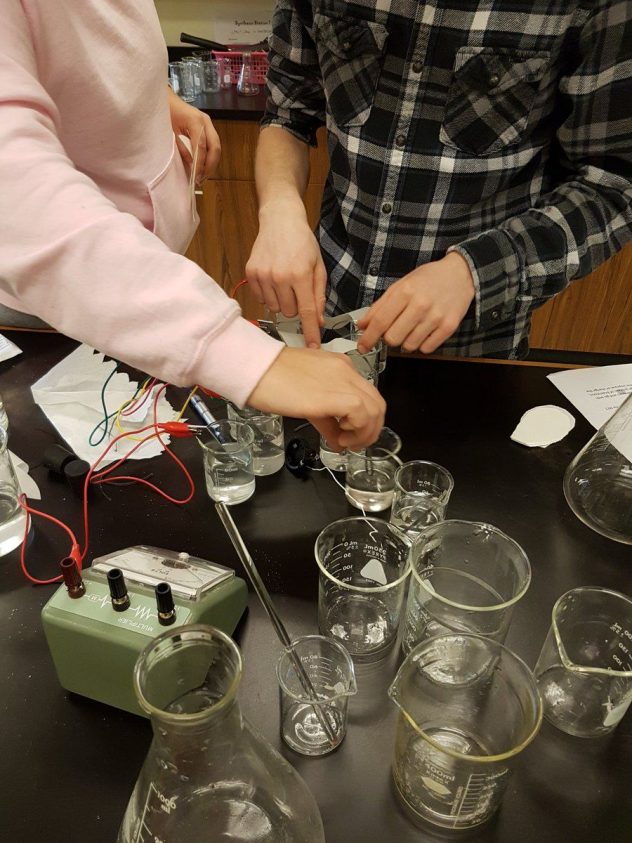 So, after collecting the required plants, we came back into the classroom. We boiled water and had some tea and talked about our walk and the plants. As the tea was running out, I asked that we all save a bit of tea. We then started an acid base discussion and we started thinking about tea and if it is acid or basic. My students were sure it was acidic but to what level they weren't sure. Perfect. Now I started asking how we could test it and so we started doing our acid titration lab from our Chemistry class. The students were really engaged and loved the fact they were testing using what we had found on our stroll in the woods outside our classroom door.
Over many years of teaching, I have always found that if we do Place-Based learning, students become more involved. My goal in my classroom is to do as much as possible that is cross-curricular so that we can see how the secondary Math and Sciences fit together in the real world. This was a prime example of a project that helps students learn about the teas of our local aboriginal community, the health aspects of teas, and the acidic testing used by food companies. My students continued to expand the learning about Chemistry in everyday foods to starting to develop their project for my Grade 10 class next year.
And so, the learning will continue.