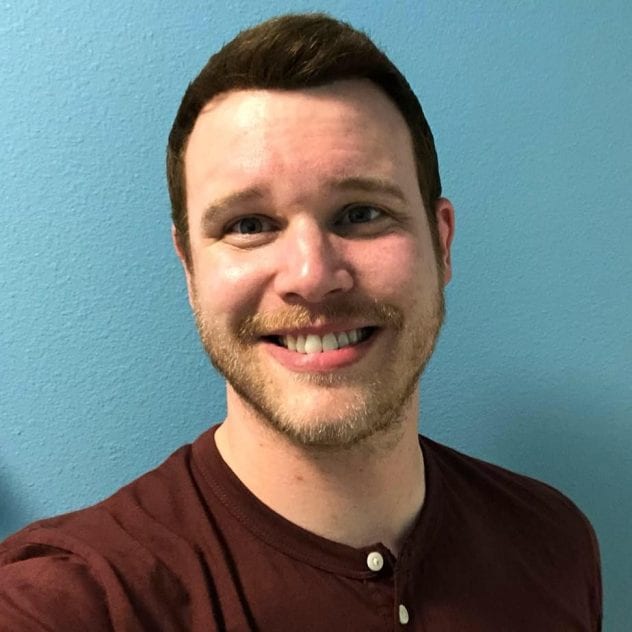 By Justin Norris (Imaginative educator whose classroom could double as an attraction at Universal Studios @JustinEdmond)
Ever since I got my first set of Batman action figures as a child, I thought of my eyeballs as the movie cameras, and my bedroom as the movie set. In order to give Batman a legitimate Batcave, I had to turn off all the lights, cover my blinds with my comforter, and slowly drop water into a small saucer to imitate "authentic cave sounds". If I didn't do these things, it just wouldn't feel real when I played with my toys, and it wouldn't be as fun.
You can ask any of my colleagues, or any of my students – I have definitely taken this imaginative mindset into my career as an educator. I'm the teacher on campus that creates a stir with not only my own students, but also with students that aren't even mine. I radically change the context of my classroom (the look, the feel, the sound) and I frequently take on different roles in my teaching.  
Questions that circulate throughout the year include:
"Why is Mr. Norris walking around with a lightsaber and barbecue tongs?"

"Are those two dinosaurs inside of his class?"  

"Why is the Terminator theme song blasting from his classroom?" 

"Why are there kids dressed as Batman and The Joker inside of Mr. Norris' room?"

"Did you see the strobe lights coming from Norris' room?"

"Why are there constant rotations of kids with face paint coming in and out of his room?"
And of course, my personal favorite:
"Is Mr. Norris' classroom on fire?"
My classroom is something of an attraction at my high school, and I pride myself on that fact. I work tremendously hard to keep my students engaged, and when it comes to engagement, context transformation is the way to go.
Time consuming? You bet. Cheap? Nope. But oh so worth it.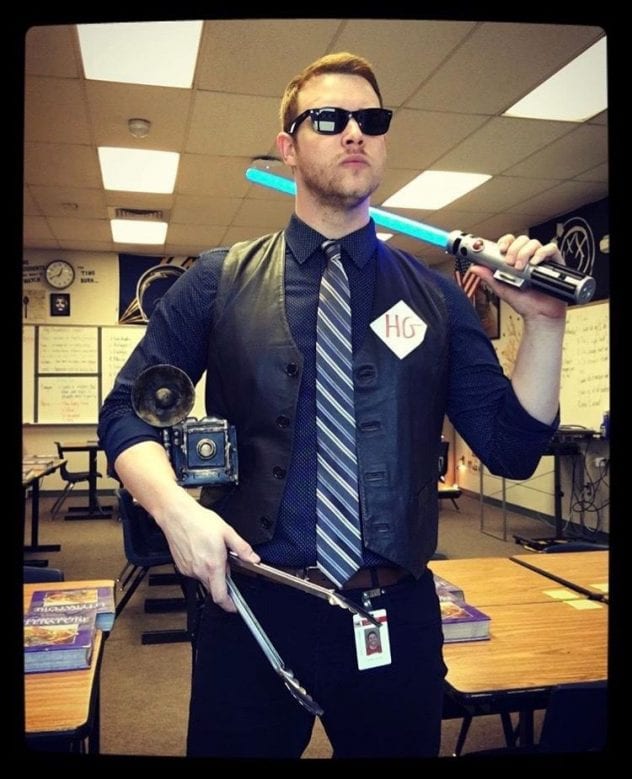 For the first unit of the year, Harrison Bergeronby Kurt Vonnegut, I turn my classroom into a Handicapper General's meeting, and I play the role of the Handicapper General.
I position four separate strobe lights throughout my classroom, with four separate stations at each of the four corners where students are issued their "handicaps." My students also take on roles in my transformed classroom. For those unfamiliar with Harrison Bergeron, it's about a forced equality through the United States government, administered by hindering people's talents with specific handicaps, rendering everyone average.
This is the most important lesson of the year, because this is where I establish the precedent. It's the first week of school, they still don't really know who I am or what kind of teacher I am, and all they can think is, "who is this guy?" and "what did I get myself into by taking his class?" But no matter how ridiculous, or how much energy it might take out of me after doing this performance five times in a row, the bottom line is, I've got 100% of my students' attention.
Another lesson where I utilize context transformation is during my Medea/Greek Mythology unit.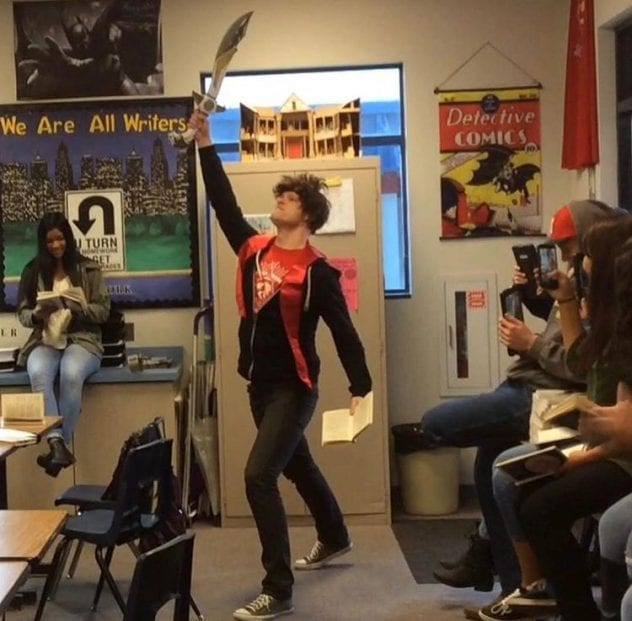 Toward the end of reading Euripides' play, I reenact the ending scene with my students. Every student has a role, every student has a purpose. I bring in wigs, swords, and dragons. Yes, dragons. Well, one might be a plush T-Rex from Jurassic Park, and the other might be the cowardly Rex character from Disney's Toy Story, but in my classroom, they are the formidable dragons that carry off the murderous Medea in her chariot of doom. Accompanied by a smartboard displaying hellish fire, more strobe lights, and an epic orchestral soundtrack, this famous scene comes to life, and every student gets to play a part, and bring their imaginations with them. There's nothing more rewarding than seeing a teenager's eyes light up with excitement over Greek mythology.

But, by far, the biggest transformation takes place during my favorite unit of the year, when we read William Golding's classic, and my personal favorite, Lord of the Flies. In the chapter titled "Gift for the Darkness", the character of Simon sits in front of a pig's decapitated head on a stick, and envisions the pig's head talking to him, where he is told that "the beast" is inside of the boys on the island.
The Transformation
To put it lightly, this is one of the most crucial moments of the novel. And every year, I make sure my students get just how important it is. During the afternoon before this lesson, I cover all of my windows, and all of my lights with red cellophane. This creates the humid and hellish atmosphere of the island. Then, of course, the strobe lights. But probably my favorite part of this transformation is the inclusion of my fog machine, and my pig mask on a microphone stand.
As my classroom door opens, the students are greeted by darkness, redness, haunting ambience, and smoke. Together, we read the chapter by listening to a recording I prepared myself, complete with scary voices, music and sound effects. I always felt that the Lord of the Flies movies do a disservice not only to fans of the book, but also to students – there is no visual or audio representation of Simon's conversation with the pig's head that does the novel justice, and that's just blaspehmous. So, I took it upon myself to make that pivotal scene come to life, and the students absolutely love it! Enjoy:
A handful always get a little creeped out, but that's the point! Students need their senses stimulated in order for those powerful moments in a story to stick in their minds in a meaningful way, and with context transformation, engagement is at an all-time high. Ten or twenty years from now, they will remember "Gift for the Darkness". 
Though it takes countless amounts of planning and preparation, classroom transformation is a necessary tool to establish strong and meaningful student engagement. We live in a world full of teenagers apathetic to even the most impressive displays of CGI, pyrotechnics, and other visuals, so classroom transformation is an absolute mustif an educator wishes to promote learning and success inside of his or her classroom.