Ebulletin Contents
Welcome Message (from Dr. Gillian Judson, Executive Director, CIRCE)
Upcoming Events
A few of CIRCE's Events & Adventures (September 2019-February 2020)
Hear from Recent MEd Imaginative Education Graduates
CIRCE's Academic Council
CIRCE International (September 2019-February 2020)
Learning in Depth
Study With CIRCE: Graduate Programs at SFU
Learn More & Participate
Support CIRCE
Welcome Message from Dr. Gillian Judson, Executive Director, CIRCE
Happy new year imagination accomplices! I hope your 2020 is off to a wonderful start—whether you are shovelling snow, seeking a larger umbrella, or heading to the beach. Greetings everyone!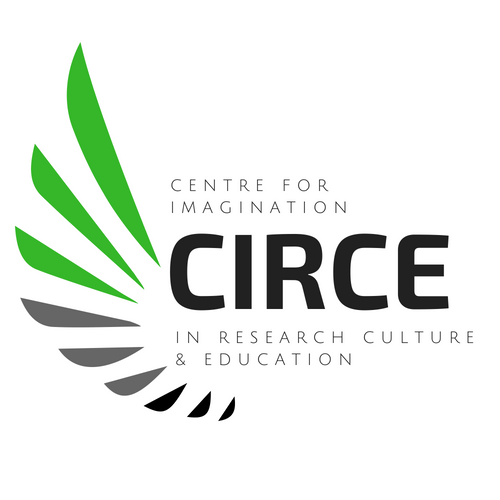 What makes the CIRCE community unique is that its members don't just support imagination in general, but they live it and strive to bring it to life in their work. We are immensely proud of the work that our community members contributed in 2019 and look forward to showcasing it in this ebulletin. So, while we are all allies for imagination, we are also imagination accomplices. We are bringing more attention to the powerful role imagination plays in our schools, workplaces, and culture. Thank you all for being part of this network and doing this work.
2019 was a great year for CIRCE, our community is certainly growing! In 2019, new members connected with CIRCE and we launched a range of different initiatives centred on the power of imagination. The direction CIRCE will take in 2020 will depend on the participation and passion of our members, so we anticipate that this year will see the beginning of new partnerships, new projects, and new passions. The programs, areas of specialization and research that we pursue emerge as our community grows and as you participate. I hope you enjoy reading about our latest events and adventures. (Thank you Chloë Lum, CIRCE's administrative assistant, for doing such a great job on this ebulletin!).
Please get in touch and visit the website (www.circesfu.ca) to learn more.
Warm wishes for 2020,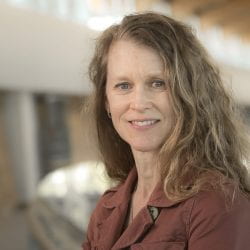 Sincerely,
Gillian
Executive Director, CIRCE
Upcoming Events

Developing Minds 2020: Connecting Creative with Critical Thinking in the Classroom
On February 14, Dr. Kieran Egan and a panel of CIRCE educators will present at the Developing Minds 2020 Conference: Connecting Creative & Critical Thinking in the Classroom.
Co-presented by the Faculty of Education and the Faculty of Arts and Social Sciences at Simon Fraser University, CIRCE's panel of Imaginative educators (ranging from Kindergarten to post-secondary) will provide specific practical examples of how cognitive tools shape their imaginative teaching practices in ways that develop their students' critical and creative thinking skills. CIRCE participants will show that in the Imaginative Education approach, "imagination" refers to the ability to conceive of the possible in all things and it fuels creativity, innovation and critical thinking.

The Possible's Slow Fuse 2020
We are very excited to launch our second scholarly dialogue series organized in collaboration with SFU Faculty of Education's Research Hub. Our 2020 series of The Possible's Slow Fuse offers four fantastic discussions about the nature and role of imagination in research and education, facilitated by scholars from diverse fields in education. This year's topics include discussions on reconciliation as a profoundly imaginative and artistic educational process, performative inquiry for social change, how we might be/come diffractive practitioners, and how Mathematics can raise an awareness of social issues and impel us to imagine a different world. Our wonderful lineup of speakers includes: Dr. Vicki Kelly, Dr. Lynn Fels and Dr. Saliha Bava, Dr. Cher Hill and Dr. Sean Chorney.
The next session, titled "Reimagining Research as Performance," takes place on February 6 from 1:30-3:30 PM at the SFU Surrey Campus and will be co-facilitated by Drs. Lynn Fels and Saliha Bava. Dr. Fels is a Professor in Arts Education in the Faculty of Education, SFU. Her research focuses on performative inquiry, arts for social change, arts as learning, performative writing, and arts-based research. Dr. Saliha Bava is an Associate Professor at Mercy College, New York, USA. Dr. Bava is a researcher of play and relational processes. She researches how individuals improvise with each other within educational, training, or work contexts. Dr. Fels and Dr. Bava are currently co-investigators in a research project that explores how community is created through shared experiences of creative play, improvisation, and collaboration. To register for the upcoming session, click here.

Imaginative Schools Network Symposium Series
The Imaginative Schools Network Symposium aims to bring together educators in order to investigate the role of imagination in public education. Through the collaboration of SFU's MEd in Imaginative Education graduate students and 13 education leaders from the local community, we aim to discover how imagination affects school leadership, teaching, learning, teacher/leader development, school culture and Reconciliation.

Our first Imaginative Schools Network Symposium featured a talented and passionate group of educators that began to critically think with and about the cognitive tools of Imaginative Education. To hear more about this event, read CIRCE Executive Director Gillian Judson's reflections on the day here.
The next discussion in the Imaginative Schools Network Symposium Series will take place on February 8, 2020. The topic will be Imaginative Teaching: How do teachers learn to teach imaginatively? What kinds of professional learning opportunities support teachers' development as imaginative educators and what feedback do they need? How can different approaches to imaginative teaching be evaluated and shared?
Future discussions include…
Symposium 3 (May, 2020): The imaginative school in context: What kinds of relationships do imaginative schools have with their families and communities? How do imaginative schools work collectively on such issues as curriculum, scheduling, use of space? What is the culture of imaginative schools?
Symposium 4 (July, 2020): Imaginative schools and the BC curriculum: What is the role of imagination in integrating Indigenous perspectives and knowledge across subject areas? What is the role of imagination in place-based education?
A few of CIRCE's Events & Adventures (September 2019 – February 2020)

Walking Curriculum 30-Day Challenge
CIRCE celebrates another successful Walking Curriculum 30-Day Challenge! On September 16, educators from around the globe came together to #getoutside. Throughout the challenge, walkers shared photos and videos of their walks, advice and insights to new walkers, and even helped to answer each other's questions on the hashtag #walkingcurriculum.
New to the Walking Curriculum? In brief, the Walking Curriculum is an imaginative and ecological approach to teaching that primarily supports educators in taking their teaching outside through imagination and inquiry-focused walks. (See how the pedagogy is being used in post-secondary here on our blog.)
Our sponsors Deep Time Walk and Maple Organics, provided prizes for our Walking Curriculum challengers. Congratulations go to Sarah Schnare, Mike Foley, and Laurelle Larmand.
One wonderful aspect of the Walking Curriculum is how it encourages educators to reflect on their walks throughout the 30-days and how they see it is shaping inquiry/discovery in their classroom. Below are some reflections from our Walking Curriculum Challenge winners.
Sarah Schnare: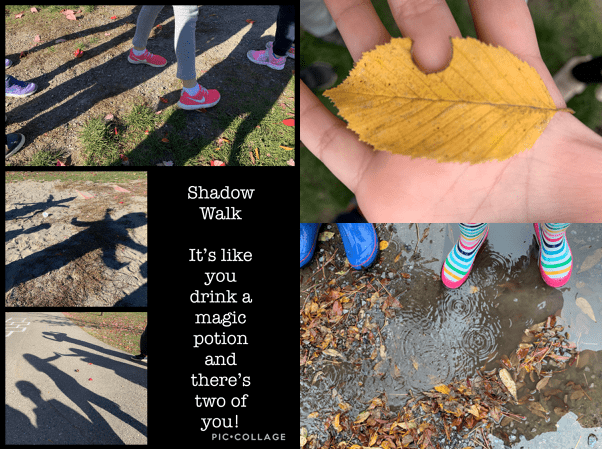 "The Walking Curriculum Challenge has provided the gift of intentional time for my students and I to connect with our local place.  Together, we have uncovered patterns, relationships, and wonders as well as imagining stories that lived in our space before we did, ones we are creating now, and openings for new stories that we may leave to others through our work. Engaging in place-based walks daily has been a catalyst for creating community with each other and our surroundings. The momentum of other classroom teachers and communities participating provided further inspiration and connections that continue!"
Mike Foley:
"I discovered the Walking Curriculum last year after a colleague recommended it. The Walking Curriculum aligned with my interest in place-based learning, and a desire to share my passion to connect students more meaningfully with the environment around them. Initially, my students were hesitant to embrace the Walking Curriculum because it was a novel and unfamiliar experience, but each day we went outside they became more engaged with their learning. Students enjoyed bringing their learning outdoors, and I was impressed with the new insights and connections they were able to make with their local environment. Using the Walking Curriculum with my students was a great way to start the year, and it has provided a strong foundation to continue developing their connection to place and their local environment in meaningful ways."
Laurelle Larmand: Walking Outdoors and Into a New School Year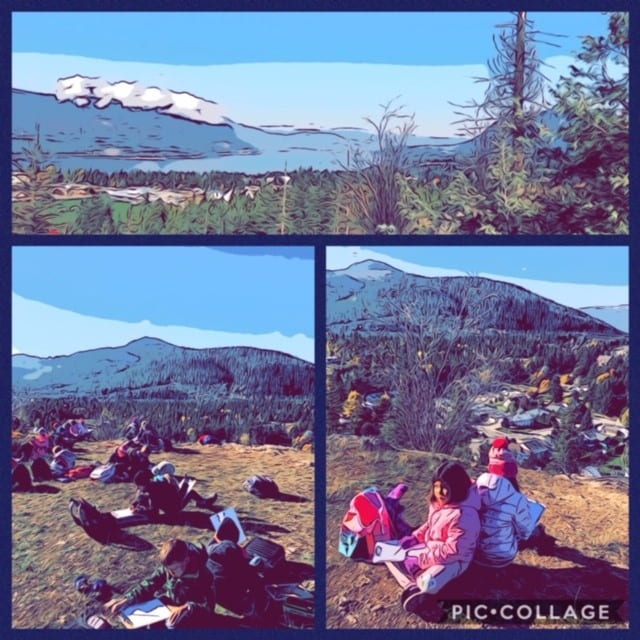 Hillcrest Elementary in Salmon Arm, BC, sits nestled amongst a forest of towering Fir trees and lanky Maples. Our school grounds and surrounding community are full of possibility for outdoor learning. It was in this context, as I explored ways to engage in this natural area, that I discovered Gillian Judson's Walking Curriculum. As I dabbled and tried a few of the walks, I began to feel ready for more!
Enter, the 30-Day Walking Curriculum Challenge in the fall of 2019.
Just two weeks into the school year, our class was building routines and getting to know each other. We started our walking routine slowly. We established norms for being outdoors together. Our first walk was simply a "What do you notice?" walk, which ended with an impromptu request for a gratitude circle. Our take away on day one – we have much to be thankful for.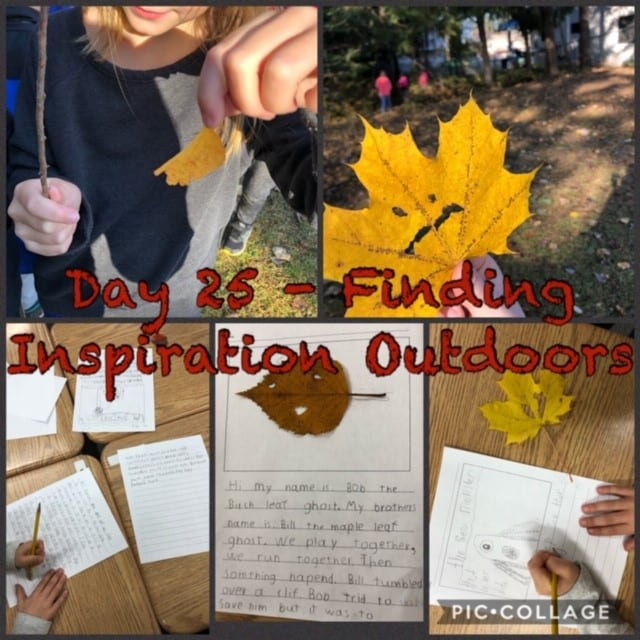 For the next 29 school days, we set an intention and headed outdoors. Often, our walks provided inspiration for writer's workshop. We searched for hiding places, imagined who might be hiding there, and returned to class to write about it. On our "Surface Walk", we noticed that holes in decomposing leaves often looked like faces. Students combed the forest floor for the perfect "leaf face" and returned to class eager to write the story of their leaf character.  Students were excited to look at the ordinary in extraordinary ways. So often, we found more than what we were looking for.
I was also beginning to understand the many layers in the Walking Curriculum.  As we headed outdoors, we were not only walking but also engaging our senses. We noticed what tree roots felt like as they poked through the ground; how sounds from humans and from nature can co-exist and what leaf litter smells like.
We were also bringing our imaginations. It seemed like every day Mother Nature surprised us. We improved at finding the unexpected. We used metaphor and considered "screams and whispers" in terms of what was obvious and easy to see (a scream) and what was subtle and harder to notice (a whisper). When students were encouraged to imagine possibilities, the results were limitless.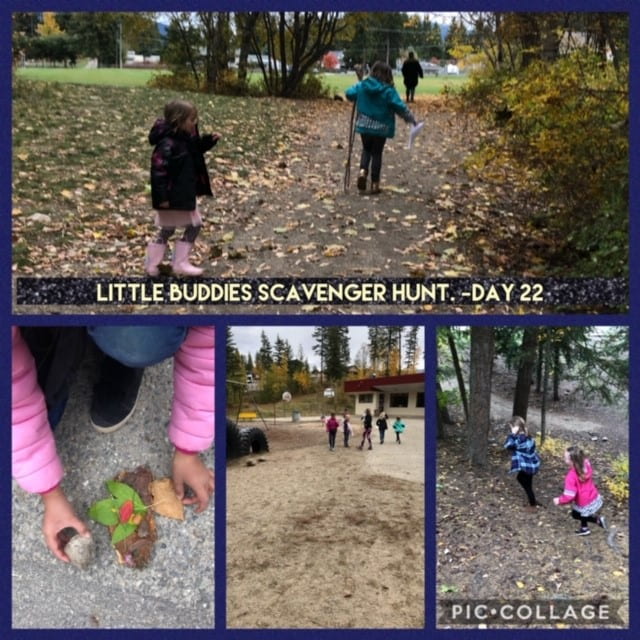 We were also building a community. We were getting to know our classmates and the community around our school.  We invited our Kindergarten "buddies" out for a scavenger hunt. We joined another grade three class on a hike to a nearby lookout. There, 45 students sat in complete silence listening to the sounds of our town. We engaged our senses and our sense of place – and in doing so were connecting with our community.
In many ways, the 30-Day Walking Curriculum Challenge set the stage for our year. Now we understand what it looks like and feels like to explore and learn outdoors.  Our shared experiences inspired friendships in those first weeks of school.  And our gratitude and wonder endures as we continue to get outside and appreciate all there is to discover in this place that we are lucky enough to call home.
Imagination Champions Series Professional Learning Series (2019-2020)
Thanks to our sponsorship from Envision Financial, as well as our partnership with the Charles Chang Institute for Entrepreneurship, CIRCE has launched a 4-part professional learning series for a cohort of 15 K-12 educators. The Imagination Champions Professional Learning Series strives to equip educators with practical strategies and resources to help bring imagination to the heart of their practice. Participants will be part of a wide community of imaginative educators who teach in ways that support creativity and innovation.
The first session in this professional learning series took place on November 20, 2019 and was titled "Engaging Emotion & Imagination in Learning with Cognitive Tools." To hear a first-hand account, read Academic Council Member Cecily Heras's reflections on our blog here.
Upcoming session topics include…
Imagination & Inquiry: The Learning in Depth Project/ The Walking Curriculum (Provided: a LiD Kit / Walking Curriculum book)
Imagination Champion Network Celebration

Collaborative Research Project: Imaginative Assessment for Learning in Post-Secondary
Fellow Academic Council members Nina Pak Lui, Christine Ho Younghusband, and Gillian Judson are embarking on a collaborative research project investigating the role of Assessment for Learning (AfL) and Imaginative Education (IE) in higher education. They are using the key stages in the Spiral of Inquiry (SOI) as the framework for their inquiry into the following questions: What's the relationship between IE and AfL? When Assessment for Learning drives teaching, can we better support the growth of students' imaginations? How can Assessment for Learning and Imaginative Education deepen learning? How can the combination be transformational?
Nina Pak Lui is an Assistant Professor in the School of Education at Trinity Western University. She teaches undergraduate education courses and oversees the initial classroom experiences. Dr. Christine Ho Younghusband is an Assistant Professor at the University of Northern British Columbia in the School of Education. She teaches courses in the Teacher Education program and the Master of Education program. Dr. Gillian Judson is a Lecturer at Simon Fraser University, Faculty of Education. Primarily she works with graduate students studying in SFU's Curriculum and Instruction Master of Education program on Imaginative Education. She is also the Executive Director of SFU's Center for Imagination in Research, Culture, and Education (CIRCE). Her individual part of this inquiry is being funded by a teaching and learning development grant. Learn more here.
Hear from Recent MEd Imaginative Education Graduates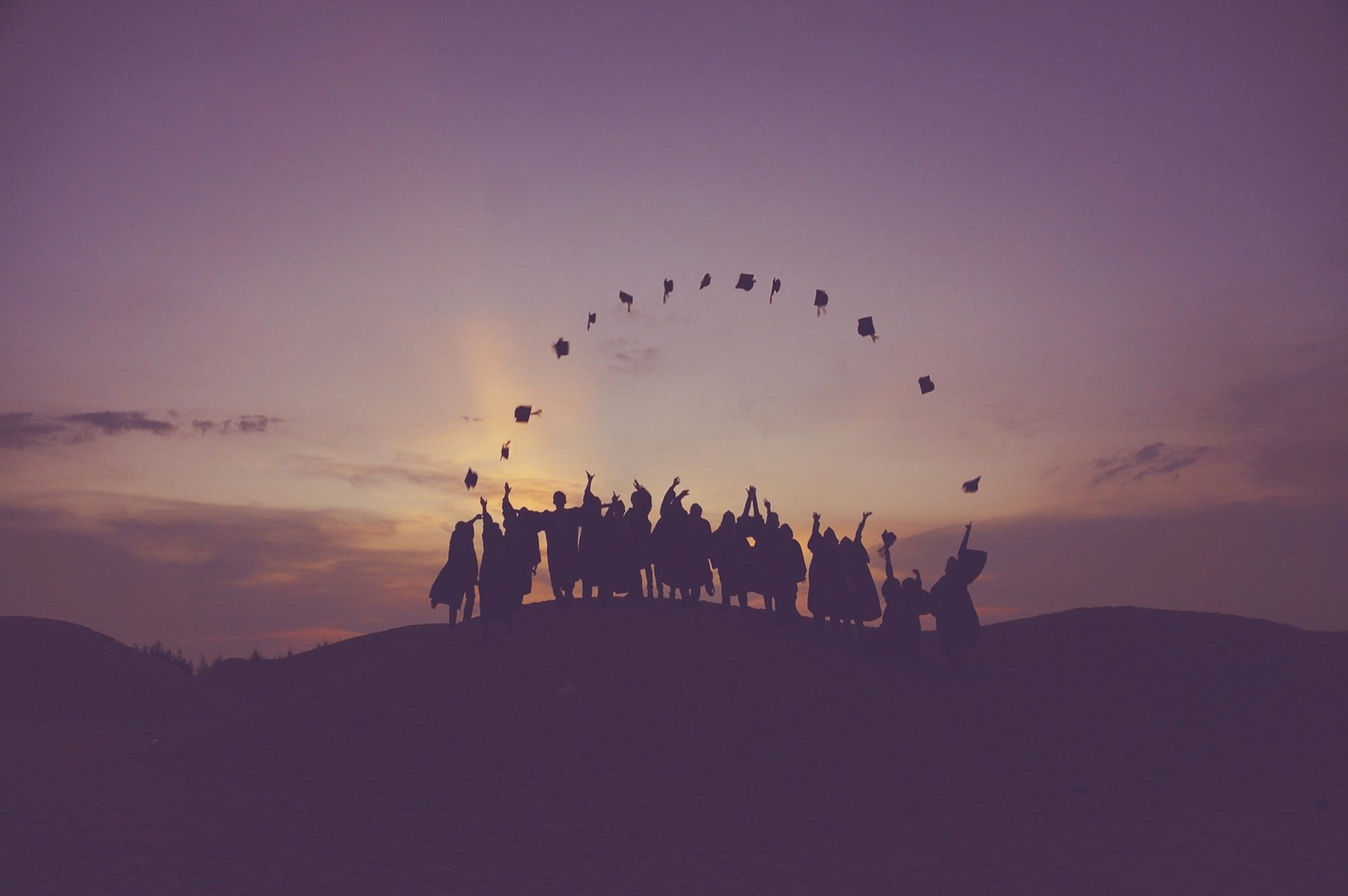 SFU's MEd in Imaginative Education program focuses on understanding the development of imagination in learners and teaches how to grow engaged minds through imaginative curriculum practices. In addition to completing this program, recent graduates Kathryn Guenter and Karen Effa became a part of CIRCE's mentoring program and are engaged in supporting, sharing and learning with their mentee. To check more about CIRCE's IE Mentor program and to read a collection of testimonials from our 2019 class, click here.
Reflections from a Post Master of Education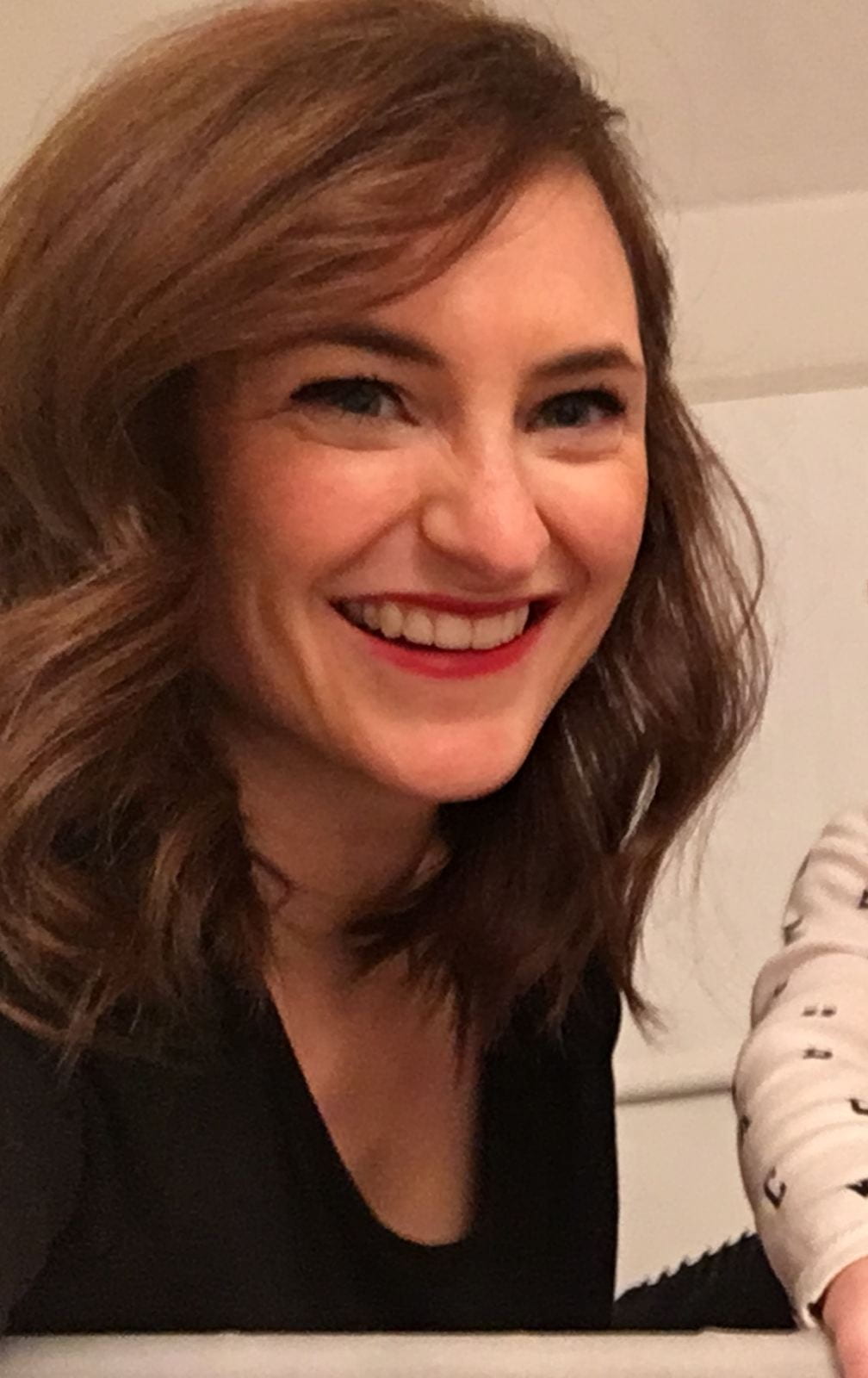 By Kathryn Guenter MEd
I didn't believe them at the time, but at the beginning of my program, those who had gone before me told me two things that I remember clearly: 1) You'll be fine.  2) It'll fly by. How true were their promises.
Two years went by quickly and I (more than) survived.  My MEd in Imaginative Education allowed me to branch out and create connections I would not have otherwise. I accepted a job offer that came out as a result of the research I was doing and am now continuing to pursue the inquiries I began during the program.  As a French language teacher, I was interested in exploring practices that best engage Grade 2-5 students in language learning. I was fortunate to be able to meet and interview someone who has been hugely instrumental in second-language teaching within Canada, Wendy Maxwell.  She is the creator of an approach that was the subject of my research, the AIM methodology. This method has proven to be effective in bringing students to rapid proficiency in their target language. My study of Imaginative Education led me to realize that the AIM methodology employs what Kieran Egan calls, cognitive tools (e.g. song, rhythm, gesture, repetition, story and humour) to draw students in.  My genuine curiosity meant that the research and writing process was not nearly as tedious or daunting as one may have imagined. I was able to connect with Maxwell and other AIM educators and now continue to explore the use of these tools in the language classroom, both in theory and in practice (to read Kathryn Guenter's Action Research project click here).
Though my program is over, and how cliché it is of me to say, this is only the beginning – I truly feel that way.  I am now collaborating with other teachers who have studied Imaginative Education and current MEd students. I am also involved in Pro-D and mentorship opportunities that will help me continue my exploration into both Imaginative Education and AIM. I feel very thankful to have begun this journey at SFU and hope to remain in contact with this community in the years to come.
Worth the Climb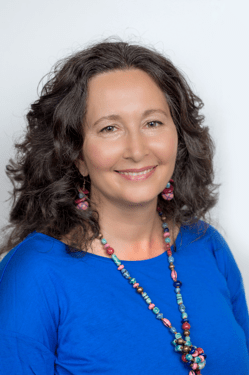 By Karen M. Effa MEd
First of all, I am very grateful to have had the opportunity to take the Masters in Imaginative Education. Although it was an arduous climb, the struggle to understand a challenging new pedagogy left me a better learner, and subsequently, a better teacher. Completing this program provided me with a more comprehensive view of education and boosted my confidence in my ability to support students in their learning. Now that I recognize the 'kind of understanding', from which they make sense of the world, I can shape lessons so that they better fit with their intrinsic interests. The various 'cognitive tools' become 'serving platters', inviting and making it easier for students to engage with the content. These are amazing resources with which to approach teaching.
That being said, the most impactful aspect of the program for me was the experience of being a student again; and most profoundly, when I was at the receiving end of learning new content through the very pedagogical techniques I was learning about. In preparing my final comprehensive presentation, I recognized that my personal and professional growth sprang from IE's basic mantra, "No emotion, no learning." It is one thing to hear it, and a completely different thing to experience it. How often, as adults, do we tackle anything brand new? If I, as a mature student, am hindered or helped through my emotional responses in the context of assignments, how much more my students? These experiences gave me a real empathy and sensitivity to the emotional reactions of my students. So, I would encourage you to take seriously the opportunity to reflect on your own feelings as you work through these courses (to read Karen M. Effa's Action Research project, click here).
Imaginative Education impressed upon me the powerful role of emotional engagement in effective learning, gave me new areas to explore, and a commitment to personally approaching new learning opportunities with greater openness and confidence.
It was worth the climb.
CIRCE's Academic Council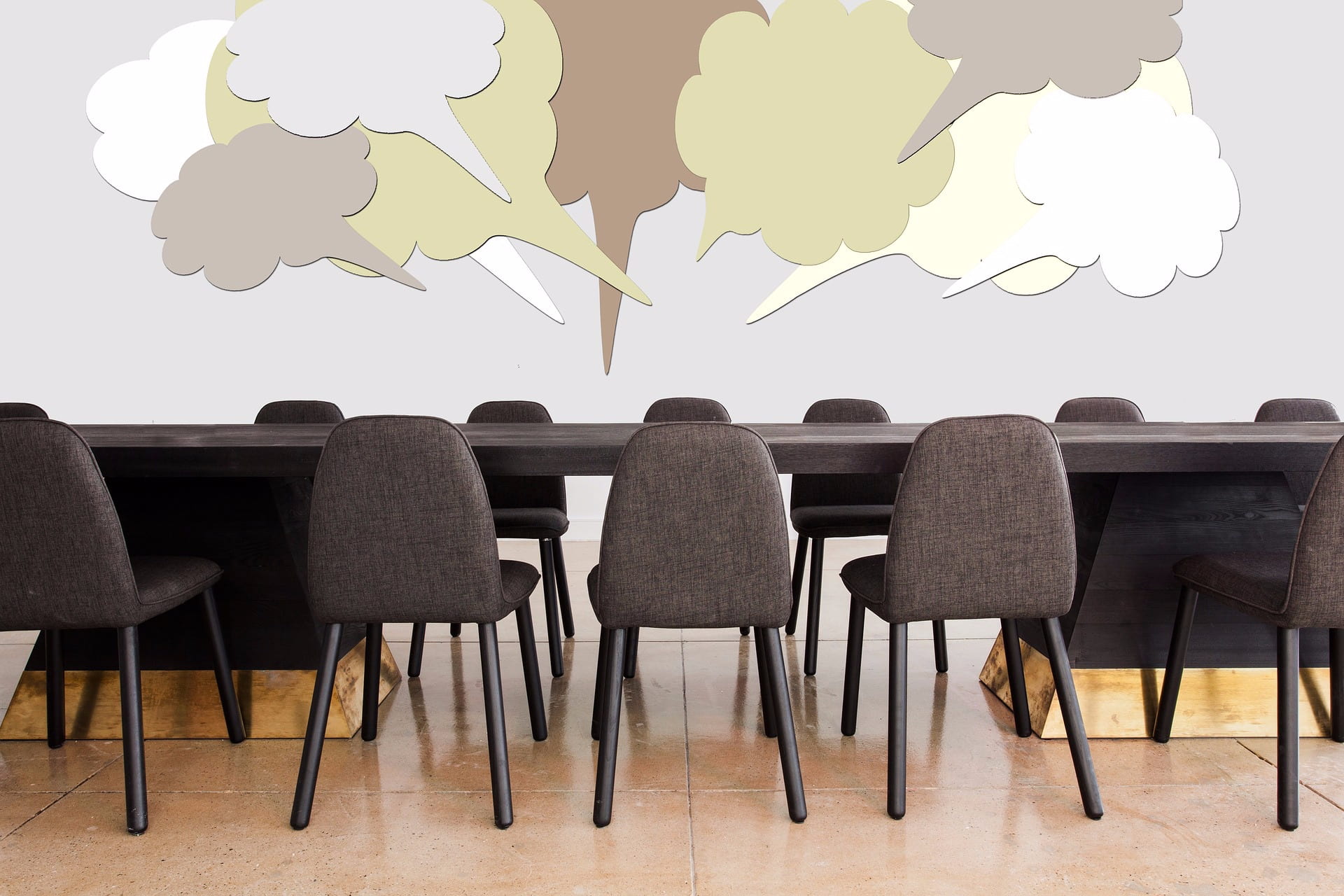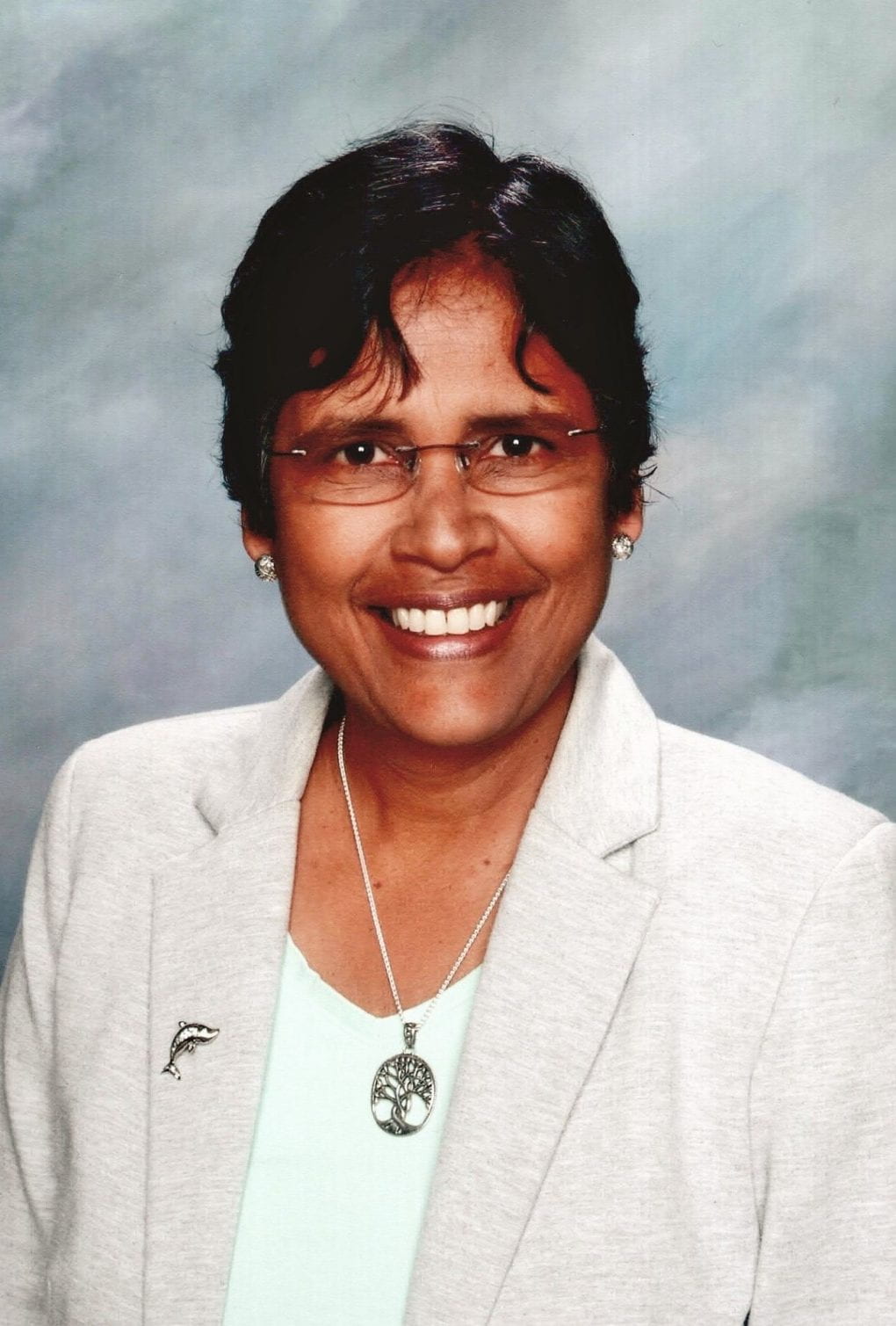 By Judy Dabideen-Sonachansingh (MEd and Imagination Accomplice) 
Are you like me? I spent my entire teaching career of 35 years in two countries feeling like something was not quite right in the way we teach our young. I discovered Imaginative Education late in my teaching career and have now discovered 34 other like-minded educators who are exploring ways of embedding this theory (and imagination in general) into their daily practice of teaching the next generation to unleash their imagination.
CIRCE's Academic Council is comprised of educators from around the world who are all working tirelessly to transform education in their neck of the woods. Whether in Science, Mathematics, Teacher Education, Languages, Social Studies, Art, or Dance, there is the common goal of making the imagination central to all learning. Our monthly meetings are held online for maximum convenience. Each month a different member highlights their work and leads some lively and thought-provoking discussions. I always leave these meetings feeling energized and hopeful that our interactions with young people will be transformative­—for them and for the world.
CIRCE International: (February 2019- September 2019)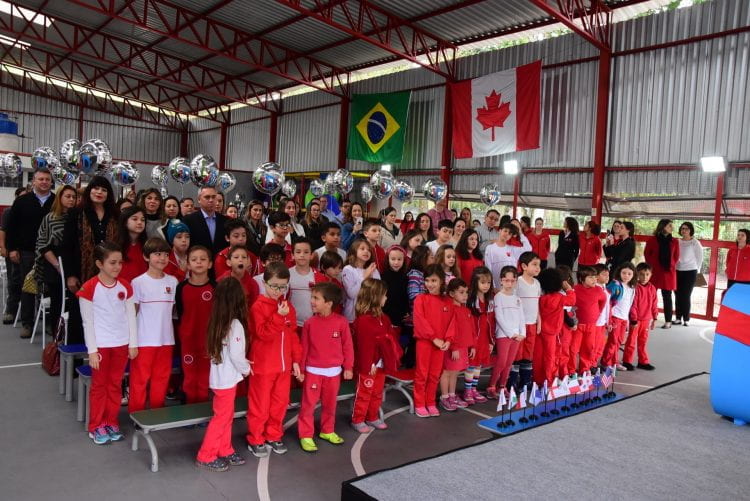 Updates from Brazil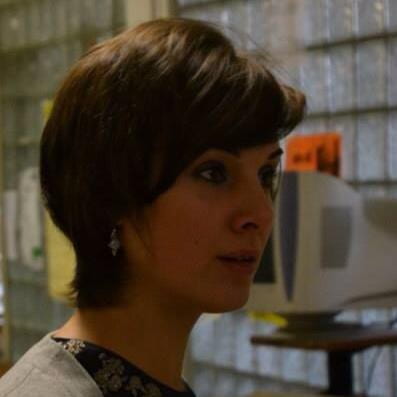 By Carolina Bergonzoni (LiD Research Assistant, CIRCE, PhD candidate in Arts Education)
In Brazil, Taís and Roberta Bento have brought LiD to 155 students from an International School. In less than six months, they have organized five events, one for the parents and four for the celebration of topic assignments. To learn more about LiD in Brazil, check out our posts on imaginED: LiD Opening Ceremony in Brazil and LiD-Updates from Brazil (featuring LiD students talking about their assigned topics).
Updates from Italy
By Carolina Bergonzoni (LiD Research Assistant, CIRCE, PhD candidate in Arts Education)
In Italy, LiD is becoming viral. LiD was first launched in the Fall of 2017, when Kieran attended the starting ceremonies of the first classes. Under the supervision of Dr. Federico Corni and Dr. Enrico Giliberti, there are now more and more LiD classes in the province of Modena, Reggio Emilia, Bressanone, and now in Verona and Bolzano.
In Modena there have been ten LiD classes running since the beginning, and ten new classes that started this year for a total of around 500 kids. In Bressanone, 250 kids are involved in LiD: some are returning students and others have just started this year. In Bolzano, six brand new classes are now involved in LiD after a sharing ceremony in February 2019. Between September 2019 and April 2020, five workshops have been presented in Modena and Reggio Emilia for teachers interested in learning more about LiD. Another workshop was presented in Bolzano as part of the Pedagogical Congress "Educazione Terra Natura" (Education, Earth, Nature).
Updates from Mexico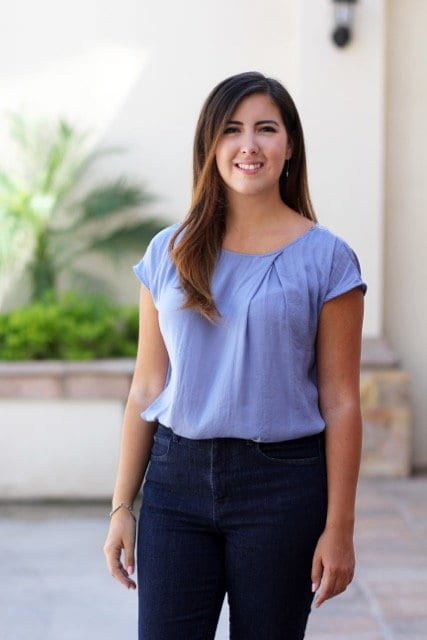 By Carolina Lopez (MEd in Imaginative Education; Director/Co-Founder Educación Imaginativa de México)
Last December a new group of 12 BEd student teachers in Hermosillo, Mexico started their research projects with an Imaginative Education focus. These students chose IE among other lines of research to complete their Bachelor's thesis during their last year of undergraduate studies. When asked why they chose to work with IE and what they expect from this experience, they mentioned they'd like to "amplify strategies, work simply and work creativity in and outside the classroom"; "I want to learn to teach through emotions, in a more meaningful way," "to have a new work strategy where learning happens through what we perceive, understand and feel." More students commented that "IE presents a challenging and interesting way to look at teaching" and that "it is an innovative and promising approach for the future of education, where the most important thing is imagination." They all shared the intention of not letting the end of their projects signal the end of their focus on imagination, but to take their learning into their practice and share it with their students throughout their teaching careers.
Learning In Depth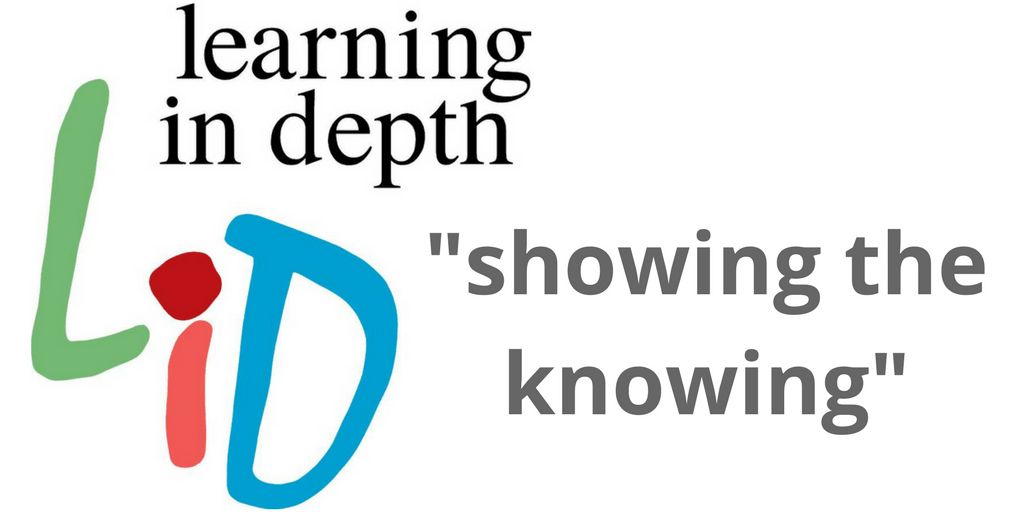 Updates from British Columbia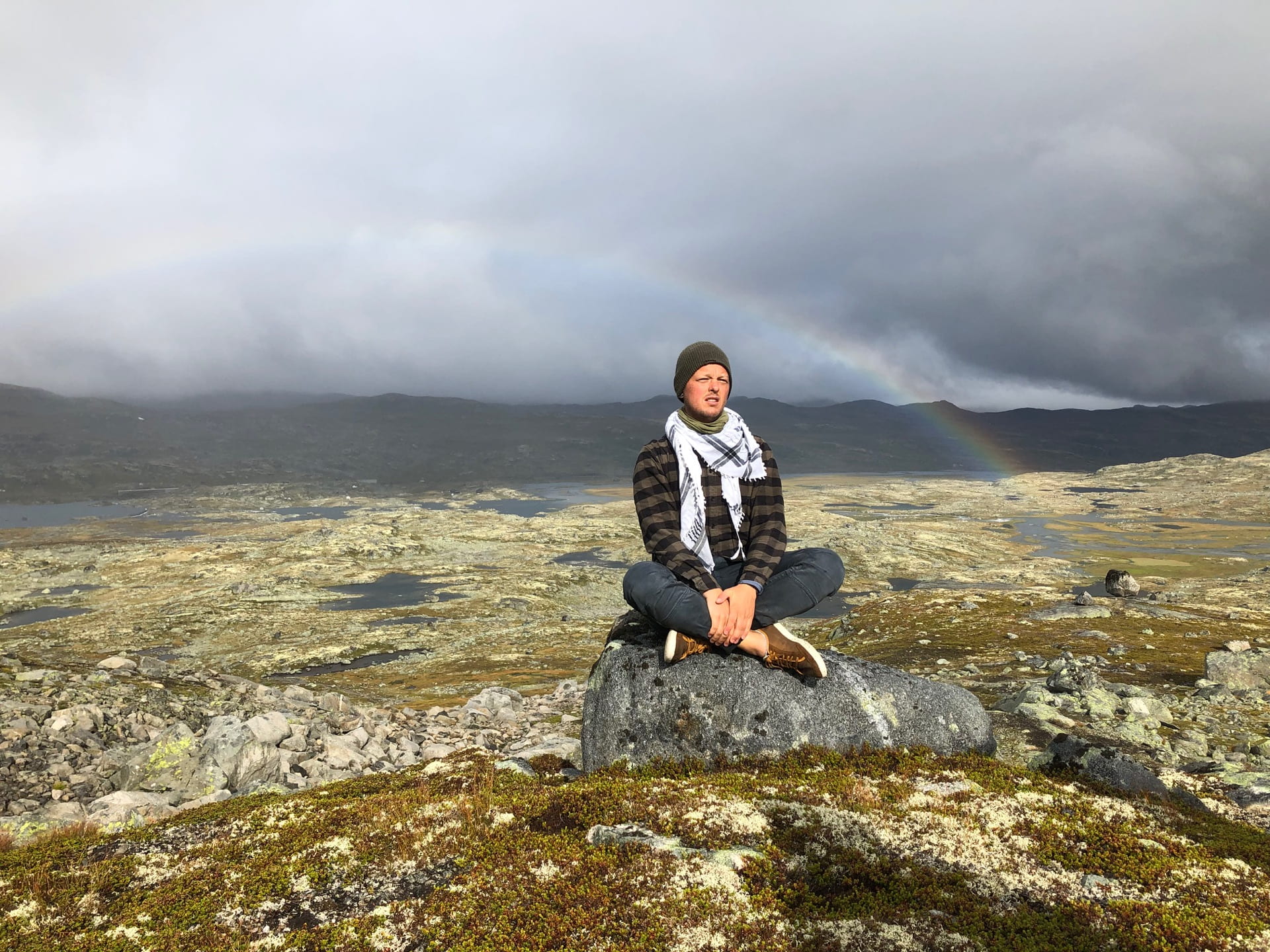 By Michael D. Datura (PhD Candidate, SFU, Instructor in Graduate Programs at SFU)
In the Spring of 2019, CIRCE researcher Michael Datura interviewed seven teachers in the lower mainland and Vancouver Island who have been using LiD for more than two years in their classrooms. Interview questions were aimed at determining initial responses to introducing LiD, demonstrable strengths and best practices, main challenges to sustaining the program, and a survey of both resources available and resources that teachers would like to see developed. One of the most obvious take-aways of the research was the idiosyncratic way in which LiD programs are enacted in particular classrooms and schools. Some teachers, like Terri Zolob in Nanaimo, have been the only teacher in their school practicing LiD for seven years running. For others, like Christa Rawlings at K.B. Woodward in Surrey, LiD is woven into the very fabric of the school culture with topic displays in the hallways and topic updates in the morning announcements. Given the potential diversity of its implementation, it's vital that both those new to LiD and those teachers who have been employing it for years, stay engaged with the theoretical foundations of the program and with its community of practitioners. In the spirit of stimulating such engagement and discussion CIRCE will be publishing blog posts with best practices, key issues, core challenges, great ideas and classroom portraits of LiD in action in the coming months based on this research. Keep your eyes open and feel free to join the conversation! (Be sure to subscribe to imaginED so you don't miss our monthly digest!)
Note: Christa Rawlings has begun an imaginative journey called the "Heroic Classroom" series. To read what heroic qualities her and her students are discovering (and have already discovered!) over this school year, click here.
Study With CIRCE: Graduate Programs at SFU
We are so excited to launch a new Curriculum & Instruction: Imaginative Teaching and Learning with the BC Curriculum (MEd) cohort in September 2020. Applications are being accepted until March 16, 2020.  For more information visit the SFU Graduate programs website here.
One aspect of the program requires graduate students to submit an Action Research project. To check out the projects of last year's cohort, click here.
Learn More & Participate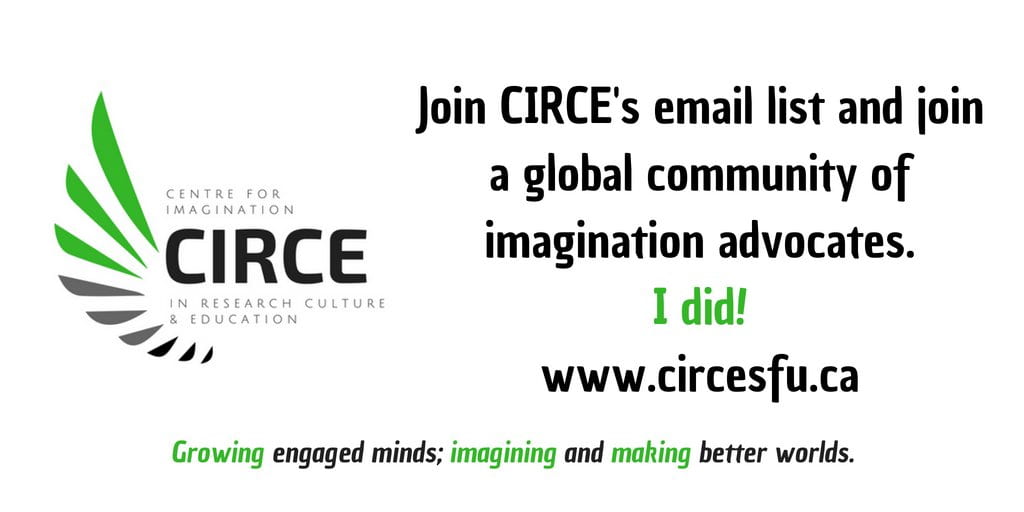 There are lots of ways to get involved with CIRCE. Follow CIRCE on Instagram here (as well as LiD on INSTA here). You can learn lots about CIRCE on Twitter here, including the latest news and events going on in CIRCE. CIRCE also has a podcast series on voicEDradio. Past episodes archived here. Interested in philosophical inquiry into imagination and educational issues? Weigh in on philosophical questions with CIRCE Advisory board member Dr. Keichi Takaya, to check out the latest Philosophic question, click here.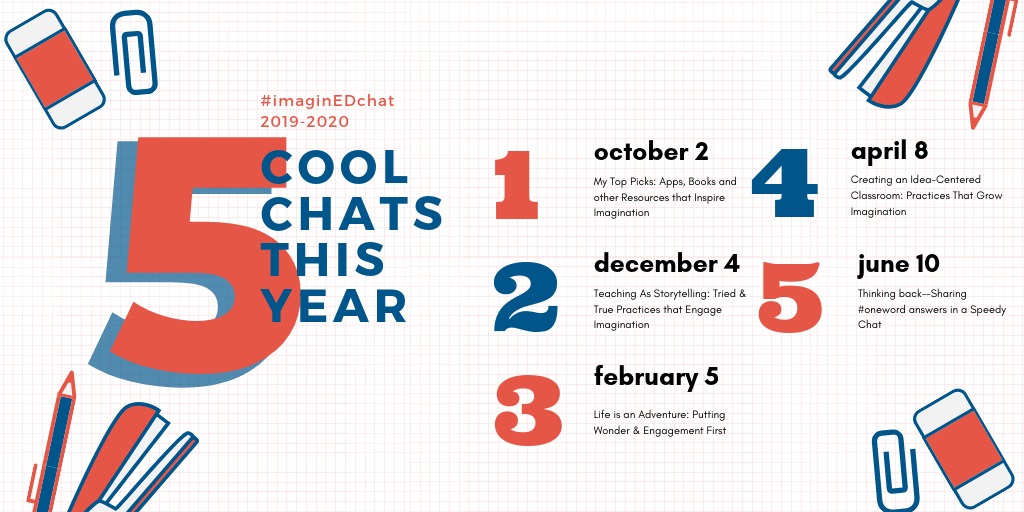 You might also participate in #imaginEDchat—an international, warp-speed, high energy chat which addresses all kinds of imagination-focused topics with educators from PreK through post-secondary. We have 5 #imaginEDchats planned for the 2019-2020 school year. Check out the dates & topics & questions.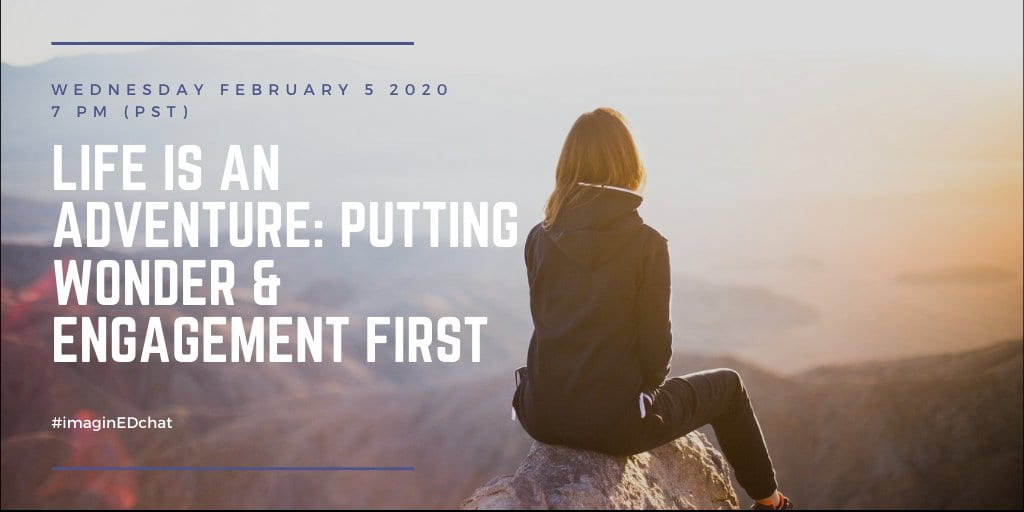 The next #imaginEDchat will take place on February 5, 2019 at 7pm PST and will be hosted by Executive Director Gillian Judson and IE Mentor/MEd Lindsay Zebrowski, who will be presenting on "Life is an Adventure: Putting Wonder and Engagement First."
If you haven't done so already, be sure to learn about IE and imagination-focused practices in this first edition of CIRCE Magazine. The magazine contains 22 contributions from leading-edge STEAM researchers, artists, scientists, and educators around the world including a feature article by Dr. Robert Root-Bernstein and a book excerpt from best-selling author Arthur I. Miller.
Interested in writing for us? We are always on the lookout for new guest writers on our blog imaginED. We are interested in exploring the multifaceted roles imagination plays in our world. We publish posts on education, but also leadership, business, theatre, design, arts—you name it! What connects the varied content on our blog is the focus on imagination: the ability to envision the possible at the heart of human culture. Please don't hesitate to contact us if you are interested in sharing your imagination-focused practices/ideas with our community.
Support CIRCE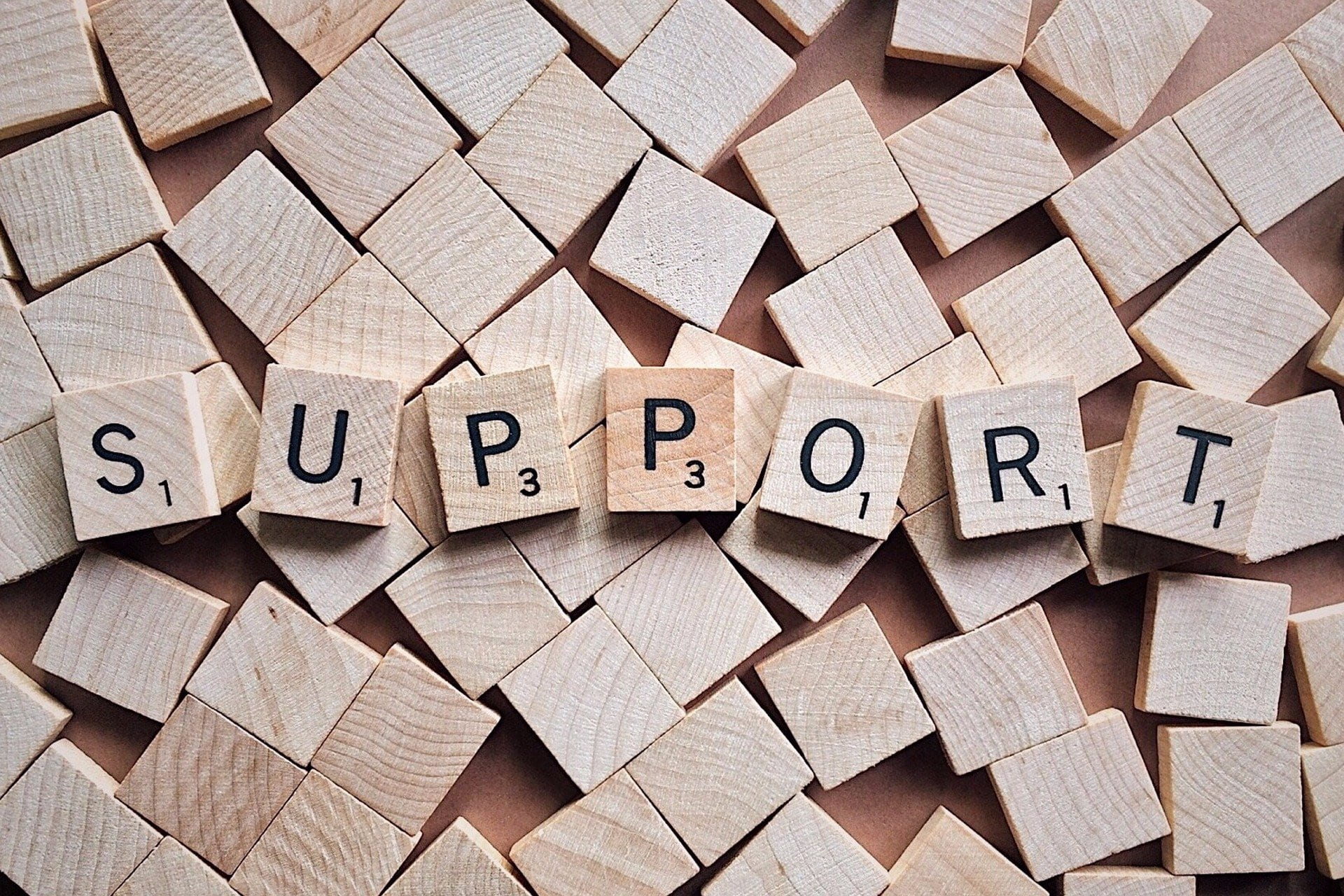 To help CIRCE sustain and expand its work championing imagination, creativity and innovation, please consider being a sponsor! Donate to a movement that increases the prevalence of imagination in education and, as a result, in our communities and workplaces. (Donations are tax deductible.) Your funds support an organization that connects imaginative people, companies, projects, and research. For more information on how to support CIRCE visit our sponsorship webpage.