On our week outside we went to the parks, did leaf rubbings, and played real hop scotch. And we played cats and mice with a parachute. It was so fun. We wish we could play it again. It was also fun to do yoga because the whole school was outside altogether in a circle. It was a good day but then it started to rain a little! And we did meditation outside, which was very fun because it was very calming and we could hear the wind and the birds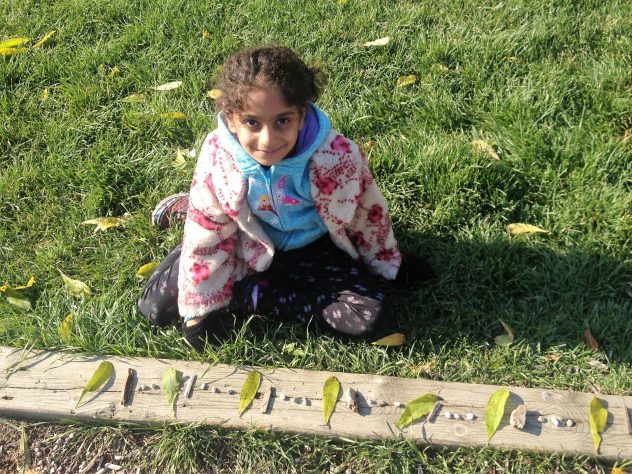 while we breathed. We also created patterns outside using things from nature like leaves, and sticks that fell, and pebbles. We also got to paint outside–we painted with special chalk paint, and we also painted our own rocks for #WinnipegRocks. Then at the end of the week on Friday, we went on a field trip to Fort Whyte Alive. We got to see bison and we got to go critter dipping, where we saw a muskrat in the water. Inside they had stuffed animals that we could pet, like polar bears, beavers, wolves, and other animals from the wild. We had to touch them with only two fingers and very carefully in the same directions that their fur grows. When we got back to school we celebrated our week outside with apple cinnamon tea and maple cookies. Then we got to play. It was an amazing week! (By Gloria and Ava) At Governor Semple Elementary School (Seven Oaks School Division, Winnipeg, Manitoba) students in Room 7 spent a week learning outside this September. Read all about it here:
The plans for the next week of outdoor learning are underway!  
Save
Save
Save
Save
Save
Save
SaveSave